I made the most delicious homemade hummus on Friday. It was divine. But due to a moody toddler who destroyed my kitchen, we didn't get a picture. Oh well - it was still pretty good.
Quick hummus
1 can of garbanzo beans with half the water drained
2 tbs tahini
Juice of 2 small lemons/1 big lemon
Clove of garlic
Handful of fresh parsley (optional)
2 tbs extra virgin olive oil

Blend all ingredients except olive oil in food processor or blender.

Spoon onto a large plate or into a bowl and pour two tablespoons of extra virgin olive oil on top. Cracked black pepper, extra parsley, or pomegranate arils are traditional garnish - we just used black pepper.

You can dip carrot and bell pepper sticks into hummus, or pita bread, or use as a spread in sandwiches, or anything.
However, I did take the weekend as an opportunity to finish my "Faceless" challenges for AllRecipes AllStars. I made Mint Cookie Cookies which were good, but unfortunately met their untimely demise when Donovan knocked them to the ground (yes, I had an interesting weekend...) and some Low-Fat Apple Spice muffins for a quick breakfast grab in the mornings.
These were good, but tough. I tried not to over-mix the batter, but I guess I did unintentionally? A quick trip to the microwave seems to fix it a bit, though.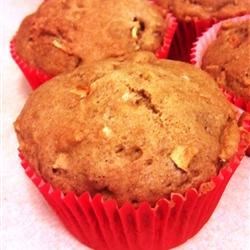 I actually didn't have plain nonfat yogurt, so I used light sour cream instead. I also used brown sugar in place of raw sugar. Raw sugar is seriously expensive.
The mint cookie cookies were also good, and I managed to get this picture of a survivor cookie: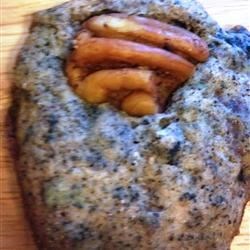 Looks gross, tasted good. I didn't think the pecans added anything, though.
I was able to get a great meal plan for the week, though...
Meal Planning Monday
Monday:
My parents are in town and buying us pizza!
Tuesday:
Cincinnati chili and spinach salad with grated carrots and homemade balsamic dressing
http://whatscookingamerica.net/Beef/CincinnatiChili.htm
Wednesday:
Vegetarian Asian stir fry served over brown rice
Thursday:
Tilapia tacos with homemade guacamole and chips
http://www.skinnytaste.com/2009/01/guacamole-4-pts.html
Friday:
Turkey/venison burgers and baked sweet potato fries
http://www.foodnetwork.com/recipes/ellie-krieger/sweet-potato-fries-recipe/index.html
Saturday:
Country turnip greens cornbread, and apricot Dijon pork chops
http://budgetbytes.blogspot.com/2011/06/apricot-dijon-pork-chops-700-recipe-175.html
http://www.tasteofhome.com/Recipes/Country-Turnip-Greens
On Sunday, I'm having a Superbowl party and I'm very excited about it! More to come later...